Floating Lint Filter
$12.97 USD 
$26.00 USD
Save $13.03 USD
Detail Product
Effectively Prevents Lint From Depositing On Your Clothing!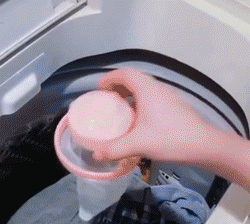 This Floating Lint Filter effectively catch excess lint and pet hair into the net and prevents them from depositing on your clothing. Simply toss it in the washer and it floats right on top.
(It is recommended to place three bags per load for high capacity washer of 8kg (17.6 pounds) or more, in order to achieve the best results.)
 It does not wrap with other clothes. Keeps your clothes clean and tidy. Remove the lint after every load and the Floating Lint Filter is ready to be re-used.
FEATURES:
Simple to use – Put it in the washer for the wash and rinse cycles. It will do its job.
No extra power is needed – The floating net filters out excess lint and fur with the help of water currents in the washer.

Easy to clean

. After use, simply remove the lint / fur collected in the net and the Catcher is ready for your next laundry.
Reusable for 1,000 loads of washes.
Extends the life of your washer / dryer and reduces clogging in the laundry tub.
Perfect for those who have fluffy pets.
PRODUCT SPECIFICATIONS:
Material: PP, Polyester
Floating Part Size: Around 3.1" or 8 cm (diameter) 
Filter Mesh Size: Around 5.9" or 15 cm (length)
Suitable for: Top load washer
PACKAGE INCLUDES: